The #1 Most Experienced Real Estate Office on
South Padre Island with Four in-house Brokers!

MEET OUR TEAM...
At Troy Giles Realty on South Padre Island, we take pride in our professional staff of agents and support professionals. Interested buyers and real estate investors won't find a more willing and accommodating staff dedicated to meeting your specific needs and requirements. MORE


ONE STOP REAL ESTATE SHOPPING...
South Padre Island and the surrounding Laguna Madre area are a unique market for property, new home and condominium construction, and commercial real estate.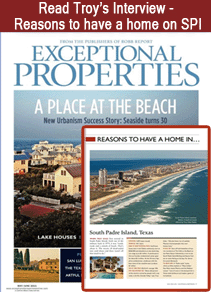 The Troy Giles team will be your best partner in finding the right real estate opportunity on the Lower Gulf coast.
Whether it's a summer golf residence, large undeveloped acreage, or a waterfront fishing retreat, we can find the right piece of South Padre Island Real Estate for you. From Bayview and Laguna Vista to Port Isabel and South Padre Island, we've got the Laguna Madre Area covered.

PROPERTY MANAGEMENT
Full service commitment to our clients providing Property management and caretaking services for South Padre Island Homeowners Associations and absentee property owners. We will accomodate all of your specific needs, no matter how big or small they may be.


Let the qualified team at Troy Giles Realty and Management serve you in your real estate and property.

---
Need a place to stay while you're looking for Real Estate or are you getting your home remodeled?
Our Partners can help....